List 5 job interview questions you might be asked during a design/photography related job interview, and your answers. These must be fairly typical questions you would really expect to get during an interview. Answer each question in paragraph form; don't give me one or two word answers. (5 points for appropriate questions and well thought out answers).
Admin




Posts

: 2604


Join date

: 2008-09-03



Q:How did you get into graphic design and photography? When did this start?
A:I got into it when a love for photography sparked during middle school after receiving a camera from my father. After I wanted to know more about the technical side of it and wanted to learn about editing them I decided to take a Digital Imaging class in high school. Ever since then I have started to love graphic design more and more each day and everything about it fascinates me.
Q:Which skills are your forte? Which parts of this job really shows your best work?
A:Taking still photographs and portraits of animals and nature on the photography side. On the graphic design side I would say creating collages with photos of different sizes and orientations and editing portraits to make colors pop and to balance out levels and contrast.
Q:Where did you learn what you know about graphic design and where were you trained?
A:I have taken 3 years of multimedia arts at an art high school called Arts Academy in the Woods located in Fraser, Michigan. I have been also teaching myself alongside learning at school.
Q:Which do you prefer personally? The photography side of this, or the actually graphic designing?
A: This is very difficult. I would have to say photography because I enjoy capturing moments that make me happy and enjoy making memories. Editing them is always fun and great. But you can edit at different angles and with different different people and in different situations. You can be a great designer but if you cant take pictures to start with it is difficult to make a god piece. Taking a good picture is like having a nice clean canvas to start with.
Q:What are a few of your best pieces? Title and a little description about them.
A:
Daybreak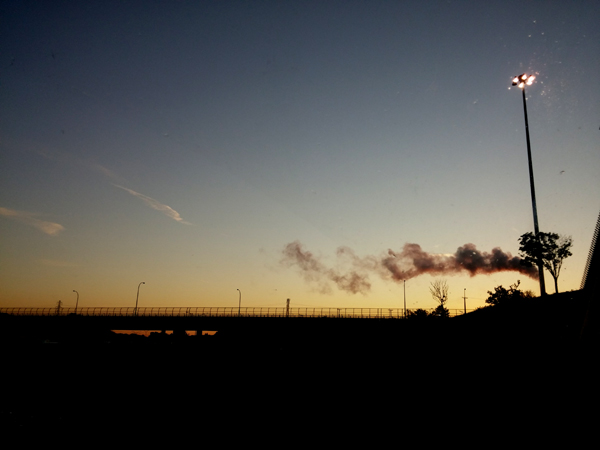 One of my favorites displaying how the day starting is beautiful. How there is so much potential to each day to be great.
Em11
This picture displays some of the only things that keep me sane. Music and friends, or to me, family. A very sentimental piece to me because I took it on a recording day, and day where our expression and feeling was recorded to listen to again.



Posts

: 148


Join date

: 2012-09-05


Location

: Madison Heights



1. What are your strengths and weaknesses?
I am strong both in mind, and body. When something is tough, I put my intellect into figuring out solutions, and my exertion towards finishing the project. I am a very diligent worker, and as a perfectionist, nothing but the best is good enough.
2. What was your last project, what it required, and what was its outcome?
My last group work assignment was in junior year. Although there were four people in the group, I took up a large amount of the responsibilities. The assignment was for history, and it required both a speech, and PowerPoint presentation. When other group members dally, I often pick up the slack, after all, the end product was to be judged out of all of us. The research, editing, and parts of the speech were all my own work, so of course my group got a perfect score on the assignment.
3. Are you better in a group, or single person environment?
Single person environment, less emailing between people, arguments, and no room to be let down.
4. If you find a project to be problematic, or simply impossible, how to you finish the project?
I would look at it from another perspective, try a new, or if I was truly lost Iíd ask for help. We have references for a reason.
5. What tricks and tools do you know, and implement into your work? How does this make you stand out in comparison to other applicants?
I am skilled in photography, Photoshop, JavaScript, HTML, and 2D art. This allows me to help with website setup, color pallets, editing banners, and taking usable photos for billboards. I stand out because not many have the skills to do art on, and off the computer, and implement it into code.




Posts

: 230


Join date

: 2012-09-05


Age

: 20


Location

: Somewhere in my mind...



1. What type of art do you work with?
I am pretty strong with using my multimedia art skills. I'm pretty good with using only programs such as Photoshop, Audacity, Adobe Premiere and other such programs. Ranging from editing photos, to taking photos, all the way to making photos from scratch.

2. Strengths and weaknesses?
My strengths consist of knowledge about basic computer functions, I'm a peoples person so I'm pretty good at talking and explain things to people, when I'm determined I can get just about anything done, and I'm a pretty smart person in general. As for my weakness; sometimes I have a bit of a mood swing (but I'm good at hiding it), sometimes I get off task when something distracts me which is a big thing I need to work on.

3. Where did you learn multimedia arts and how were you taught?
I was taught multimedia arts in high school. I took three years of it and I'd like to say that I'm really good at it. I was taught to always use your imagination for you art and to always follow your vision and to never steal anyone else's work because you should want to have your vision presented.

4. Are you good with working around people or not?
I really am good with people. I have that personality that kind of draws people towards me. And I like that. I like interacting with people on the work environment. It's one of my best qualities.

5. Do you enjoy the photography side of arts or the multimedia side? Explain.
I enjoy both honestly. I love taking pictures, it's a really fun activity to do. But on the other I love multimedia the same amount. Editing pictures and making my own pieces from scratch really is a satisfying and fun to do.



Posts

: 58


Join date

: 2014-01-30


Age

: 19


Location

: Clinton Township



Q1: What skills do you feel like you are best at?
A1: I feel like I am most best at the pen tool. Simply because that is my favorite tool to use in Photoshop. I feel as though you can use the pen tool for almost anything. It's fun and you can be very creative with it. It is one thing that I would like to master in Photoshop, It's not a hard tool to use but it takes time if you want things to be neat.

Q2: Do you work well with others?
A2: Yes I feel as though I work very well with others. I like bouncing ideas and different concepts off of each other. I feel like with different ideas being thrown around you can come up with a better and more creative project. Working with others can improve your creative skills and you can learn from each other. What you lack another person may have, and maybe inspire you to do better or want to push yourself to improve.

Q3: Which do you prefer, Photoshop or Photography?
A3: Honestly, I prefer both Photoshop work and Photography. What I love about photography is that you can use it to interpret any message. A picture is worth a thousand words. What I love about Photoshop is how you can arrange or rearrange a photo to make it look the exact way you want it. Or even if you just have a certain image that you want to create, Photoshop is the way to go.

Q4: What is your favorite type of photos to take?
A4: I love taking landscape photos. Anywhere outside. I love taking pictures of different scenes around Detroit, the good and the bad they both could be very meaningful.

Q5: Where did you learn or study photography?
A5: I learned photography in high school at Arts Academy in The Woods. learning there taught me the basics of photography and how to use Photoshop. Studying there also taught me to challenge myself to be a more creative individual.




Posts

: 173


Join date

: 2012-09-05



healyg wrote:1. What are your strengths and weaknesses?
I am strong both in mind, and body. When something is tough, I put my intellect into figuring out solutions, and my exertion towards finishing the project. I am a very diligent worker, and as a perfectionist, nothing but the best is good enough.
2. What was your last project, what it required, and what was its outcome?
My last group work assignment was in junior year. Although there were four people in the group, I took up a large amount of the responsibilities. The assignment was for history, and it required both a speech, and PowerPoint presentation. When other group members dally, I often pick up the slack, after all, the end product was to be judged out of all of us. The research, editing, and parts of the speech were all my own work, so of course my group got a perfect score on the assignment.
3. Are you better in a group, or single person environment?
Single person environment, less emailing between people, arguments, and no room to be let down.
4. If you find a project to be problematic, or simply impossible, how to you finish the project?
I would look at it from another perspective, try a new, or if I was truly lost Iíd ask for help. We have references for a reason.
5. What tricks and tools do you know, and implement into your work? How does this make you stand out in comparison to other applicants?
I am skilled in photography, Photoshop, JavaScript, HTML, and 2D art. This allows me to help with website setup, color pallets, editing banners, and taking usable photos for billboards. I stand out because not many have the skills to do art on, and off the computer, and implement it into code.

Kinder 2 & 3.
2. What was your last project, what it required, and what was its outcome?
My last group work assignment was in junior year. There were four people in the group, and tasks were assigned equally. The assignment was for history, and it required both a speech, and PowerPoint presentation. As a person I make sure to strive to reach the projectís end goal. Time management, sacrifice, and self-control are the keys to a health group work environment. The group received an ďA,Ē and the work was fully completed.
3. Are you better in a group, or single person environment?
A single person environment is much simpler comparably to a group assignment. In group work you must be able to speak, and have a good relation with members of the group, regardless of their personality, and trust them to complete their work. Group assignments require communication in and out of work. When working alone a person is able to set their own deadline for their assignment, and rely on themselves to have the self-control necessary to finish the job.
However, there are times when a job is too daunting for a single person, and that is when a good group of cohesive people should be formed. Say, an order for 15,000 banners, due at the end of the week. That is group work.



Posts

: 230


Join date

: 2012-09-05


Age

: 20


Location

: Somewhere in my mind...



Tell me about yourself.
Iíve been into films for just about as long as I can remember. I made short movies using my parentís video camera and iMovie since I was 7 or 8 years old. When I was in 8th grade, I made a documentary about my teacher, which I submitted to the Michigan Student Film Festival. It ended up winning Best In Show. Throughout high school, I took graphics and video classes, building my knowledge in the Adobe Suite Collection. My sophomore year, I founded my schoolís film club, and we went on to win a few awards for our work at the Michigan Student Film Festival that winter. Right now, Iím working on a short film entitled ďFountain of Youth,Ē a work I hope to submit to some bigger name film festivals (Riverside Saginaw, Traverse City, etc.). Additionally, for my senior project at school, Iím facilitating our schoolís very own public art gallery.

Tell me about a time when you had to take initiative.
In high school, I realized that our school was lacking a bit of funding. We needed a way of fundraising that utilized resources we already had. To solve this problem, I decided that for my senior project I would found a public art gallery for the school. The gallery would showcase and sell studentís art, giving students authentic experience in art business, as well as financially benefit them. Additionally, 50% of all proceeds would go directly to our school. Iím currently working on making this reality; our first show will be December 18th. So far, the response has been overwhelmingly positive: students and teachers are really excited about my idea and want to work with me to make sure the gallery is a success. Iíve already put a lot of work into planning for the gallery, and I will do my best to ensure the gallery is a staple in the community for years to come.


Whatís important to you in a new position?
Iíve been working really hard on polishing my skills in graphics and video editing, so Iíd like to work in an environment where Iím able to apply these skills on a daily basis. Iím motivated by a combination of working collaboratively with clients and coworkers and time to work independently on projects, and Iíll definitely be able to do both of those things in my position.


What are your strengths/weaknesses?
I think one of my biggest strengths is that Iím self-motivated. When Iím really into a project, I often think about it throughout the day, and find myself talking to my friends and family about it. When a project seriously motivates me, I spend as much time as I can working on it, and want to do the best job I can.
My biggest weakness is that in the past Iíve had trouble trying to communicate my feelings on otherís work without being indecisive or hypercritical. Iíve made an effort to try to be constructive with my criticism, as well as put personal preferences and pretenses aside.


Why should we hire you?
I think Iíd be a good fit for this position because I specialize in video editing and Iím very familiar with the Adobe Suite collection so it wouldnít at all be a stretch from the type of work Iím used to. Additionally, this position will provide an environment Iím very well-suited to, where I can collaborate with other creative people as well as work independently. This environment, as well as the tasks that are required of me, will motivate me to do the best job that I can.



Posts

: 169


Join date

: 2012-09-05



Tell me about yourself?
I like to write poetry short stories stuff like that. I'm love to cook, read, and take photos. I really began to love photography in 10 grade of high school.

What made you want to become a photographer?
I like how you can capture any moment ,good or bad, with a camera and make others feel like they are there and can feel the emotion said moment displays.

what interests you in this position?
I always wanted to travel and take photos professionally and feel like this will be perfect for me to accomplish that. Plus the more experience I get at a professional level the better.




Posts

: 15


Join date

: 2015-09-08



1. What interested you into the media arts and photography?
- I've been working with computers ever since i was a kid (like 5ish is earliest memory of me playing some truck game) but I've been into the gaming and programming area of it a lot and recently been exploring the art form of media arts and CAD and progressed well into it, its an essential thing that I've leaned for my future career in car design, though I've explored other parts like creative design and other styles of animations, and it started from anything from the computer for the designs i make.

2.What kind of design projects interest you?
- I love doing posters or creating cool drawing and backrounds for myself, it also go along with my intrests with cars, video games, and anime, though I do tend to make simplistic elegant work with bold lines, I have very well knowledge in most media arts such as photoshop, web desging and I do know computer laugnages such as HTML, Java Script, and various types of coding laungauges.

3.What have you learned from your mistakes as a graphic designer?
-I've leanred certain ideas and styles are not for me, I also leanred that the procces and examination of how I feel about each project like if I feel its god enough to use or wanting to go back and edit it in the future. I also leanred that My style is not keen on everyone, I prefer simple yet elegant but bold style, yet other times i get creative with it, but I do know others have a different view on my tastes which is fine.

4.What plans do you have for outreach to the community?
- I'm an eaglescout so helping others is a specialty of mine, i love helping others out with anything, my out reach would be doing from my own spare time doing that include teaching kids to use computers, learning of media arts such as multimedia desgign and graphic arts and such, or helping by makng posters for a charity event, or the good old lending a helping hand!

5. Where do you see yourself in five years?
- I see myself fresh out of collage and into a job that is involed in design and engirneeing, if its in the auto business then that'll be even better.



Posts

: 47


Join date

: 2014-10-07


Age

: 21



Grades are in up to here.
Admin




Posts

: 2604


Join date

: 2008-09-03





Similar topics
---
Permissions in this forum:
You
cannot
reply to topics in this forum