Post up a project update (how far along are you and what still needs to be done).


Objectives: Identify, define problems, and reflect upon possible visual solutions. Planning a project, reporting to clients on project updates. 

Grades for this assignment will be based on:

2 points: progress
this is the first few seconds of the animation I have in my past portion of the project. I remember looking at covers of movies and being inspired by my dad to draw and create. The next portion of the story board will be present and then future. The conflict will be art blocks and lack of interest/ motivation.
I will maybe only need the next two weeks to finish it since I can work on it at home.

katieb




Posts

: 177


Join date

: 2013-09-03


Age

: 21



alternative assignment, working on yearbook stuff

chelsea1998




Posts

: 142


Join date

: 2012-09-10


Age

: 23


Location

: lolololol




jordan a




Posts

: 138


Join date

: 2013-09-03


Age

: 22


Location

: wherever duty calls




KaylaMc




Posts

: 131


Join date

: 2013-09-03


Age

: 22


Location

: money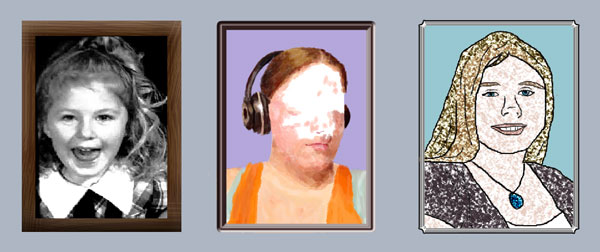 This is the finished product.  Creating an art gallery theme, I used three pictures of me from the past, present and future.
Past
: In the first picture, the photo is black and white to represent how much of a "typical child" I was.
Present
: In the second picture, I made it a Van Gogh style to represent how I'm becoming more abstract from everyone else, but the picture is incomplete representing how I don't know who I am.
Future
: In the third picture, I made it extremely abstract from the first two to represent how I learned to accept that I'm different and use it to make a difference.

tedij




Posts

: 120


Join date

: 2013-09-05


Age

: 22




CaseyF




Posts

: 176


Join date

: 2013-09-03




WilliamVA




Posts

: 148


Join date

: 2012-09-05


Location

: Madison Heights




noahh




Posts

: 316


Join date

: 2013-02-04


Age

: 26


Location

: aaw




AaliyahH




Posts

: 173


Join date

: 2012-09-05



---
Permissions in this forum:
You
cannot
reply to topics in this forum